OUR PRODUCTS
Evgefsis | Wine with Honey Rhodes

The wine is derived from the blending of wine with honey. It is a drink that has its roots in ancient Greece, where it was drank at any time of day
There are several references to Greek mythology and history about the wine with honey. Demokritos lived until old age by including wine with honey and bread in his diet. The witch Cirkeus seduced Odysseus' sailors by offering them a wine with honey. The nymph Melissa nurtured Zeus with wine with honey and bread to strengthen it.

In the Nestor Palace in Pylos, in the Main Room of the palace, 35 wine jars were arranged in series. One of them is the word meritio [me-ri-ti-jo], that is wine with honey. Also note that in some of the 60 clay seals found in Warehouse of Wine there was a special incision point of the Linear Second Writing Wine Declaration.The Warehouse is described in Odyssey 3, 390-392.
The wine with honey we produce is based on the ancient Greek recipe with some modern touches. It is made of excellent quality wine and honey from Rhodes, producing aromas of wood, herbs and fruits.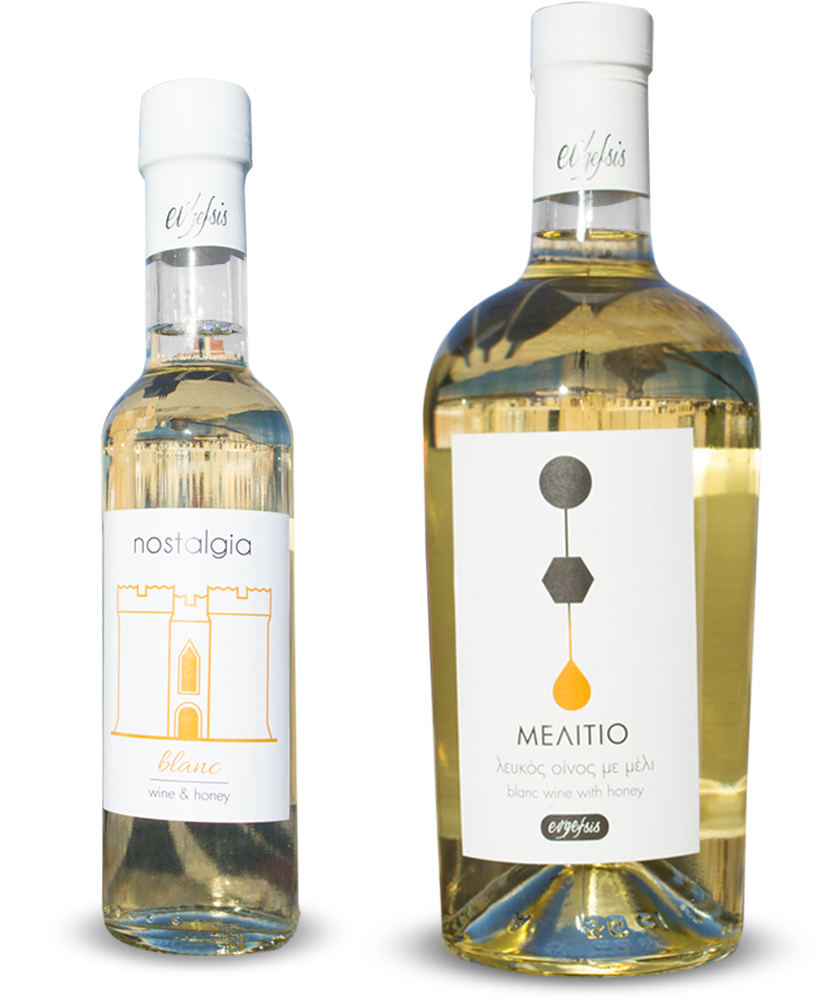 WHITE WINE WITH HONEY

The white wine with honey is produced with wines from the local varieties Athiri and Moschato. It has a sophisticated taste that balances the sweetness of honey and the spicy nature of ginger, while offering the refreshing lemon aura and the distinctive aroma of mastic.
Served cold (8 - 10 oC).

PACKAGING:

MELITIO 250ml & 500ml
NOSTALGIA 200ml & 500ml
Order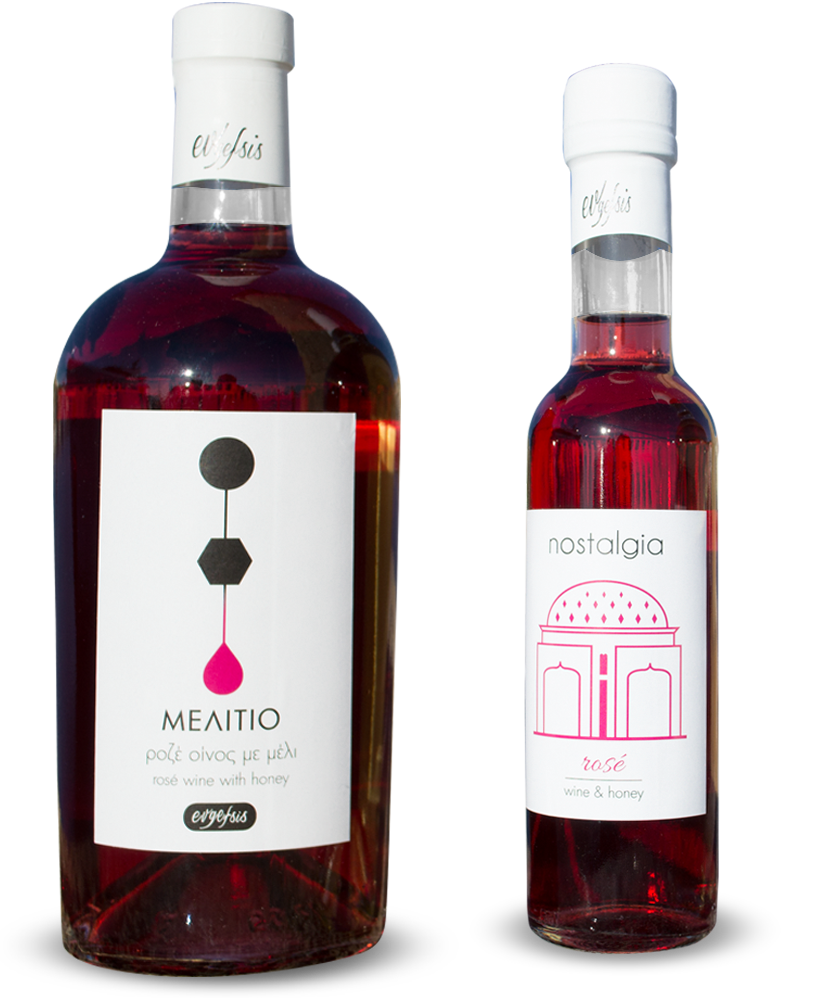 RΟSE WINE WITH HONEY

Rose Rosemary is based on rosé wine from the local variety Mandilari. It has a mild and gentle taste with aromas of red fruits, strawberry and cherry.
Served frozen (10 - 12 oC).
PACKAGING:
MELITIO 250ml & 500ml
NOSTALGIA 200ml & 500ml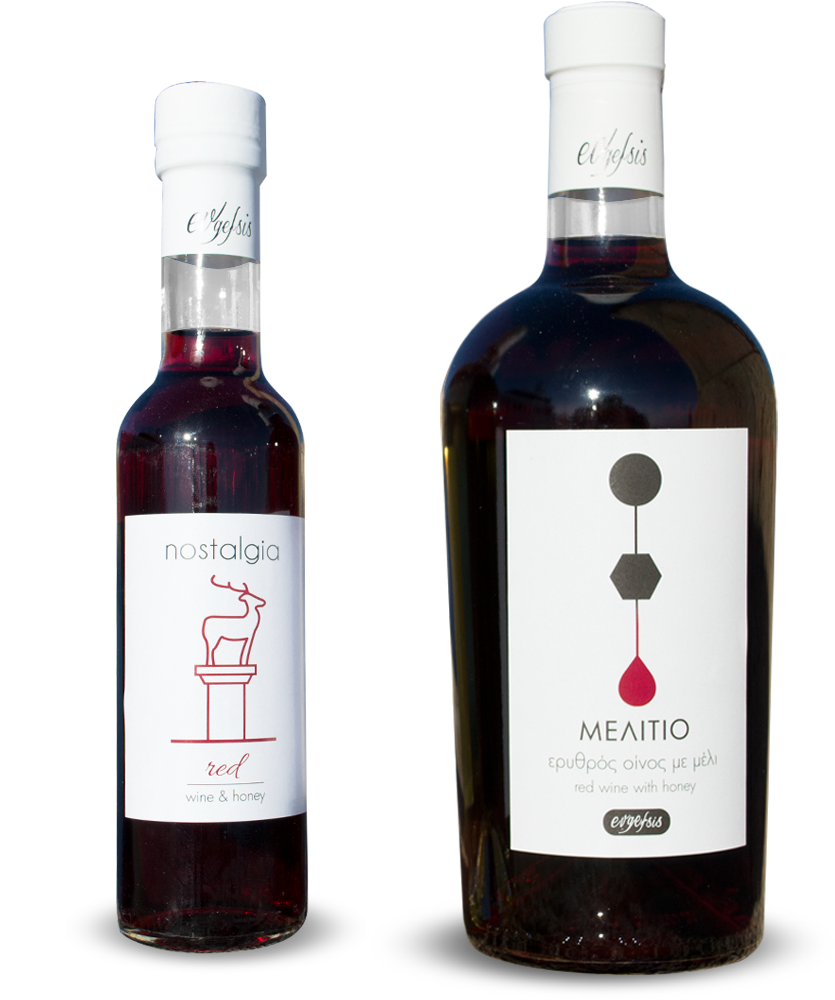 RED WINE WITH HONEY

The red veneer is made with wines of the Cabernet Sauvignon, Merlot and Mandilari varieties. It has a rich and strong flavor of aromatic wood, honeycomb, coriander, and citrus flavors.
Served at room temperature (18oC), but can be served hot for a different tasting experience.
PACKAGING:
MELITIO 250ml & 500ml
NOSTALGIA 200ml & 500ml